Gear Up Promotions LLC
We are a promotional product distributor and proud member of the Promotional Products Association International (PPAI). Promotional products, also known as ad specialties, make up a nearly $17 billion dollar industry and are used by virtually every business in America. Why? Items like mugs, pens and t-shirts are memorable and provide a better cost per impression for advertisers than almost every major marketing effort like TV, magazines and the Internet.


Featured Item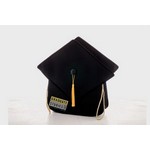 The Grad Bag Deluxe - 17" x 19&quot...
Luxury Felt Graduation Bag. The Grad bag deluxe is a magnificent bag option for a school function event, college party celebration and educational fundraiser projects! It is the real bag with the real...

Signature Showrooms